In the Community
Community involvement is very important to Dr. McCracken and the team at Amazing Smiles!  Whether we are providing dental services or just sponsoring local organizations, we think it's very important to bring a smile to the faces of Kansas City, Kansas!


As a member of the Kansas City, Kansas Chamber of Commerce we find new ways to network with local businesses and support the people who work hard in and for our city.
Dr. McCracken has participated for three years with the Kansas Mission of Mercy, a traveling, once-per-year charitable dental service that in 2012 served 2,151 patients and provided over $1.51 million dollars of free dental services LOCALLY in Kansas City, Kansas
TeamSmile is another free dental event focused on the oral health of children.  Dr. McCracken and her assistant, Jessica, have been to Arrowhead Stadium to treat children from urban areas who were bussed in for a fun day meeting Chiefs players and having comprehensive dental care including extractions, fillings and sealants.  This one-day event helped 239 children and provided $124,449 worth of dental care.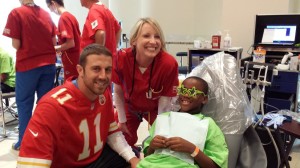 During February, "National Children's Dental Health Month" our entire team went to Piper Elementary school to teach Kindergartners the how and why of brushing their teeth!  We provided 180 dental kits including toothbrushes, toothpaste and coloring books free of charge.
In addition to these dental events we have sponsored Youth Baseball, a teen girl's Softball team, and SocialHeart.